Thank you for Sponsoring!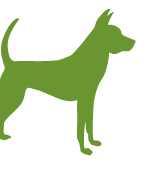 The Story of Easter
Around the island building sites often have dogs, either they wander into the building site and stay because the builders give them food, or the builders themselves bring dogs in to "guard" the area.
One day a government building site contacted us, saying their site was near to completion and the dogs there had nowhere to go. On arrival we saw Easter and her sister Ebera in a makeshift kennel of wire and rusty metal. There was feces all around and their food and water bowls were empty. These poor sisters had been locked away in this dirty and rusty kennel for several months with no human contact. Both them also had very sever intestinal parasites. It took us a long time to treat them and kept them isolated until the treatment was over. Easter is still very shy due to no human contact and will take several months of training. Your monthly donation will mean everything to her. Please apply if you'd like to help. Thank you very much.
我們接到一個通報,某個工地的工程已經接近尾聲,在裡面逗留的浪犬將無家可歸。抵達現場時,我們看到Easter 和妹妹 Ebera 被關在一個用電線和生鏽金屬拼湊的籠子裡,到處都是狗大便,而且裝食物和水的碗都是空的。Easter和妹妹被關在又髒又鏽的籠裡好幾個月,完全沒有與人類接觸。她們有嚴重的腸道寄生蟲,必須暫時與園區的狗隔離接受治療。她們花了很長的時間才康復回到園區。由於之前缺乏與人類的互動,Easter的個性還非常內向,需要很長的時間重建對人的信任。您每個月的捐贈,可以協助我們支付Easter的生活和醫療費用,讓我們有更多的資源可以訓練她,化解她對人的恐懼。如果您願意助養Easter,請和我們提出申請,謝謝!