Thank you for Sponsoring!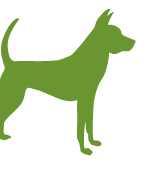 The Story of Bruno
My name is Bruno. I am one the permanent residents at Mary's Doggies. I was rescued when I was two months old. Before coming here, I was wondering the mountain roads with my siblings. We were often chased and abused by people. I felt no one liked nor cared about us. I had no faith in humans. I first noticed Mary and her group when they came to drop off food and water. I didn't trust them but the food and water were lifesavers.

I fell into a deep ditch when I was escaping from this scary and abusive man. I couldn't get out and was crying out of fear. Luckily, Mary and her team heard me and got me out.

Everything changed since that horrible day trapped in the deep dark hole. It took me awhile to get used to all the new things but I am now one happy dog!

Word from Foster Family:
Bruno had a rough beginning in life. He came traumatized both physically and mentally. It took him 5 years to regain trust in people. He is now very sweet and enjoys head and belly rubs very much. He's learned commands such as heel, come, leave it and sit.


我的名字叫做Bruno。我長期住在Mary的園區,是園區裡固定的成員。我被救援時才兩個月大,和兄弟姐妹們在山中流浪。我們常常被人追打。當時的我深信沒人喜歡或在乎我們,也因此對人類失去了信心。我第一次看到Mary和她團隊時,他們正在路邊留水和食物給我們。我不信任他們,卻不能否認他們放的食物和水救了我們的命。

有一次,我為了逃離一個可怕男人的虐待,掉入一個深溝。我被困在溝裡爬不出來,只好害怕地哭泣。幸好Mary和她的團隊聽到我的哭聲,把我從溝中救出。從那天起,我的生命出現了重大改變。我花了很長的一段時間才習慣新生活,現在的我是一隻快樂的狗。

中途家庭的話:
Bruno 的出生坎坷,身心靈嚴重受創。他花了五年的時間才重新信任人類。現在的他是個小甜心,喜歡讓人摸他的肚子。聰明的他也懂得許多基本指令:坐下、過來、握手、不可以碰...等。